Buy a DQ Blizzard Treat on August 11th To Have $1 Donated to Children's Miracle Network Hospitals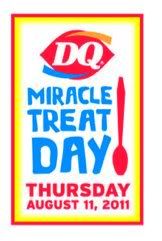 There's nothing that I love better than eating something yummy and cool on a hot Georgia day. So this summer my family and I made quite a few visits to Dairy Queen for a Blizzard Treat and now they are giving us another reason to stop by. Today, August 11th, 2011, DQ is celebrating Miracle Treat Day!
This means that $1 or more from each Blizzard Treat sold at participating locations on Miracle Treat Day will help sick and injured children at your local Children's Miracle Network Hospital. Since 1984, DQ has raised over $86 million for Children's Miracle Network Hospitals-including $5.5 million in 2010. Here's hoping we break that record this year!
So join DQ and help make miracles happen. It only takes one Blizzard to make a difference.