Catch The American Bible Challenge on @GSN – Tonight 8/23 8pm ET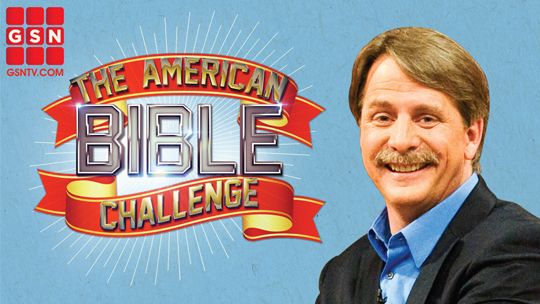 For anyone that knows me they know my fixation with trivia. I'm one of those people that can whip out a very random fact at any given moment. I can't promise that I know everything but I sure love to try and take it all in.
So I was kind of interested to hear that the Game Show Network (GSN) was premiering The American Bible Challenge,  a one-hour game show hosted by Jeff Foxworthy, tonight.
I will honestly say that if I hadn't seen Jeff Foxworthy's name associated with the show I probably wouldn't have bothered to check out the screener copy of it. I just really like his sense of humor and loved what he did with his other show, Are You Smarter Than a 5th Grader, thus my interest was piqued.
The show starts off with 3 teams of 3 people that compete against each other, using their Bible knowledge, to win money for their chosen charitable organization. I thought it was a fun way to present the Bible and was nicely surprised how they have added some great elements that spoke to me even when I wasn't so sure because it felt a bit awkward here and there. Lord, please don't strike me down for that one!
But what made up for it were things like adding social media to the game (think how a biblical character my update his Facebook page), pop culture-like categories (In the Name of The Lord of the Rings) and even having a choir sing before commercial breaks made it worth watching.
It's just a fun time and I think this show has potential. Watch the sneak peak below, catch it tonight and tell me if you agree.
THE AMERICAN BIBLE CHALLENGE, an original one-hour game show hosted by comedian Jeff Foxworthy, premiering tonight Thursday, August 23 at 8 pm ET/PT.

THE AMERICAN BIBLE CHALLENGE is produced by RelativityREAL for GSN, with RelativityREAL's Tom Forman ("Extreme Makeover: Home Edition") and Embassy Row's Michael Davies ("The Newlywed Game," "Who Wants to Be a Millionaire") serving as Executive Producers on the project.  Nick Stuart and Maura Dunbar of Odyssey Networks are Consulting Producers.
Random thought: Here's hoping that GSN picks up on another game show I'd like to pitch…Are You Really a Social Media Guru? I know we'd get plenty of laughs from that one! What gameshow would you pitch?