Disney Store Grand Opening in Atlanta – Join Us!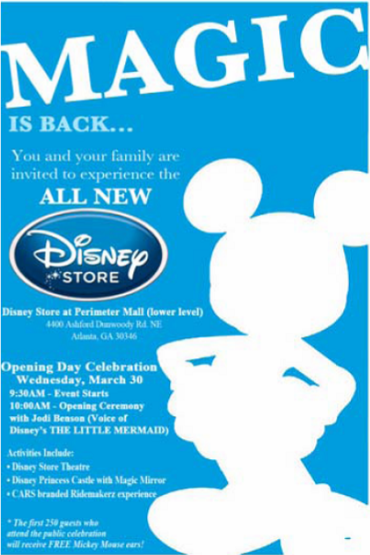 For all of my Atlanta readers you'll be happy to know that tomorrow, Wednesday, March 30th the newest and coolest Disney Store addition – with Interactive Features – is coming to the Perimeter Mall! I know, sweet, right? So, if you are in the area come out and join me and Shaunsito, the Disney Store crew, and Jodie Benson – the legendary voice of Ariel, from Disney's The Little Mermaid – for tons of fun. And the first 250 people in the door will receive FREE Mickey Mouse ears. I can hear you singing now…M-I-C-K-E-Y-M-O-U-S-E!!!
The new Disney Store offers a one-of-a-kind, interactive and magical experience for Disney fans of all ages. Disney Store's new design concept aims to deliver "the best 30 minutes of a child's day" through immersive experiences including a Disney Princess with Magic Mirror, Translucent Trees, Disney●Pixar CARS-branded Ridemakerz experience and the Disney Store Theatre featuring the latest Disney entertainment.
This will be the first of many newly designed Disney Stores to open in 2011 and with each new store opening this year, Disney Store will donate 10 percent of the first day's sales to the Make-A-Wish Foundation in the United States!
WHEN: Wednesday, March 30, 2011
9:30 a.m. – Event Starts

10:00—Disney Store Opening Ceremony and Jodi Benson "Unlocks Magic"
WHERE:
Disney Store at Perimeter Mall (lower level)
4400 Ashford Dunwoody Road Northeast
Atlanta, GA 30346
If you can't make it on Wednesday there will be plenty going on at the store all this week and weekend. And if your outside of Georgia keep those "mouse ears" perked up for upcoming news of other Disney Store Grand Opening Celebrations. We'll definitely keep you posted, Mouseketeers!