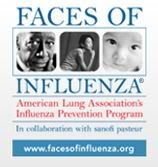 Nothing says winter better than suffering from the flu. Not one of the best introductions into what we all consider a festive season.Alas, influenza can catch you and your family off guard so to better prepare and hopefully avoid during the holidays be sure to at least consider getting a flu shot. To learn more about it you can watch this video from one of my favorite show hostesses, Lili Estefan of El Gordo y la Flaca and Dr. Javier Perez-Fernandez.

Feel free to also visit FacesofInfluenza.org for more great information.
And don't forget: Spread the Word, Not the Flu!
Happy Holidays!