Memphis The Musical At @TheFoxTheatre Atlanta & Your Chance To Win Tickets!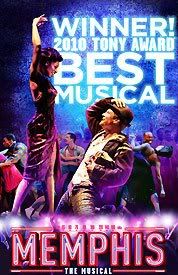 For anyone who knows me they know I speak the truth when I say I love musicals! I could probably reenact many of my favorite ones but will spare you all from the agony & embarrassment. Sadly, while living in New York, I never did get to attend a Broadway musical – blasphemous, I know – but luckily for me The Fox Theatre Atlanta has given me access to some amazing theater moments. And even better I have the opportunity to check out a musical I have yet to see and have heard wonderful things about…Memphis The Musical!
Turn up that dial…From the underground dance clubs of 1950s Memphis, Tennessee, comes a hot new Broadway musical that bursts off the stage with explosive dancing, irresistible songs and a thrilling tale of fame and forbidden love. Inspired by actual events, Memphis is about a white radio DJ who wants to change the world and a black club singer who is ready for her big break. Come along on their incredible journey to the ends of the airwaves — filled with laughter, soaring emotion and roof-raising rock 'n' roll.
When: Jan. 31st – Feb. 5th, 2012
Where: Fox Theatre
660 Peachtree Street Northeast
Atlanta, GA 30308

Cost: $25 and up
For more information on the show and tickets please click here.
So, are you just as excited as I am about Memphis The Musical coming to Atlanta? I know you are so we are giving away (1) Pair of Tickets to go see the show on opening night, Tuesday, January 31st! Enter now for your chance to win. This giveaway ends 1/30 so hurry!