Mother's Day Southwest Airlines Giveaway

With all the work that I've been doing lately I could sure use a vacation. And I know I'm not alone in this, right? If you are a mami you are forever spending your time taking care of others which is what it means to be a mami. And I'm so glad to know that my friends at Southwest Airlines recognize this.
As a matter of fact we know how hard you've been working taking care of your family, working in and outside the home, attending school functions, chauffeuring everyone around, nursing the sick kiddos and hubby, and much more I'm sure. How you hold down the fort  is a wonder but you do it every day with a smile on your face. For that, mama, Southwest Airlines wants to thank you this Mother's Day with the chance to win two round-trip tickets that are good for any SWA destination!
Can I get a WEPA?!?!
How To Win
Just leave a comment and tell me, as a mom, what is your favorite thing about flying Southwest?
And share with us where you'd like to fly to as well!
And

Southwest Airlines

hasn't forgotten about the kiddos either so they are also throwing in some souvenirs (or in-flight entertainment) — a Southwest Flight Attendant Doll, an Airport Playset, and the LUV'ed onesie courtesy of Southwest Airlines. Sweet!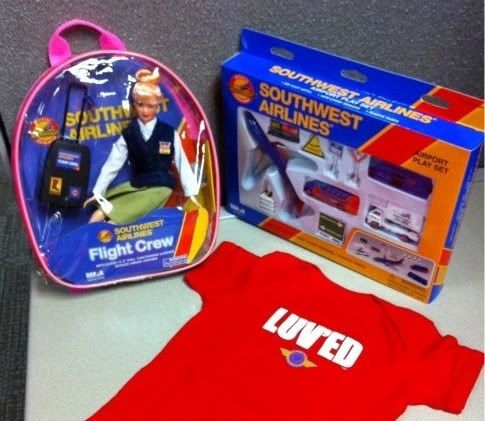 Wait! Another Shot at Winning AND a Trip To a Spa?!?!
You heard me correctly, mi gente! If you want another shot at winning the awesome team at TodaysMama.com are also giving away a pair of tickets from Southwest Airlines AND a dream getaway to the Miraval Resort and Spa.
Extra Entries
If you feel like you really need that extra push to win, don't worry. Here are some ways to do just that. For every extra thing you do below be sure to come back here and leave a comment saying you did so with a link to it.

Tweet or Post on Facebook about this giveaway with the following: "Mother's Day Southwest Giveaway from @Mami2Mommy & @SouthwestAir http://bit.ly/k7fYF6

Pls RT #giveaway"

Subscribe to Mami2Mommy newsletter or RSS Feed
Contest ends Friday, May 13th, 2011 at 7pm EST and Official Contest Rules can be found here.
Buena Suerte – Good luck!

With all my mami love,
Jennifer
—- This contest is now closed.
We have a winner: AMY BAYLISS!!!
Congrats and please email me at jennifer@mami2mommy.com to set you up!——-