Mummies of the World Exhibit at Discovery Place – Charlotte
On many occasions my family and I have visited Discovery Place in Charlotte, NC. It is a wonderful place for children to discover the world around them while in a safe and fun environment. Discovery Place is one of the top hands-on science museums in the nation. The facility also includes an IMAX Dome theatre and showcases many different themed exhibits. A recent exhibit that opened on November 11, 2011 and will be displayed until April 8th, 2012 is the amazing Mummies of the World exhibit.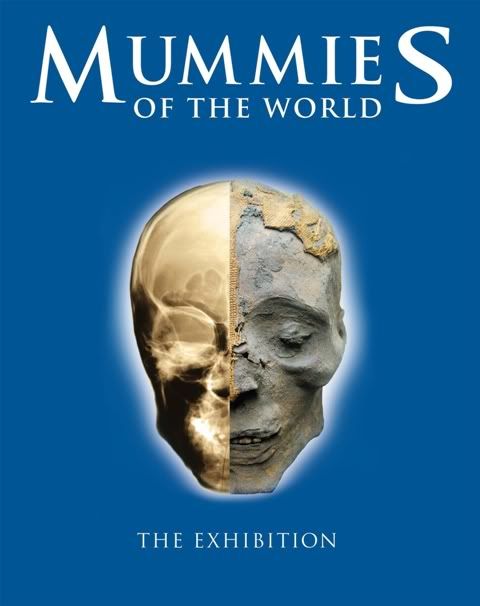 The day before the official opening I was invited to the media showcase of the exhibit. Luckily for my son ,Brandon, he had a ½ day of school and accompanied me. My son, who is 9 years old, was extremely excited and couldn't wait to see the exhibit. For the past two weeks we had discussed the exhibit and he had also read the front page of Sunday's Charlotte Observer about it. He couldn't contain himself knowing he would actually see the mummies in person. The exhibit had completely peaked his curiosity.
Before we checked in, my son decided he wanted to be the interviewer and ask questions that he had put together, as well as play photographer. I thought that this was a great idea and agreed. He definitely wanted to get the whole experience and I was just thrilled for him.

Once we entered the 3,500 square foot exhibit we immediately noticed the ambiance of the space. The lights were dimmed and background music played which gave it an almost sacred kind of feeling to it. Before even beginning our tour we had an opportunity to sit and watch an introduction video and get a glimpse of the intricacies of what we were about to see. We learned that there were at least 150 real human and animal mummies from South America, Europe, Asia, Oceania and Egypt.
After the video presentation we began our walk thru of the exhibit. Right away we were in awe of the mummified animals that were mummified either by nature or by man. There were also several hands-on stations like one that displayed different textures of mummy materials and you could touch and feel each one.
Each mummy was respectfully displayed in a glass case with their own individual thermometers that kept a close watch of their temperature. Temperature, we discovered, was an extremely important factor for the exhibit. The mummies are extremely fragile and having the right temperature was imperative to control.
As we continued our tour from one area to another we continued to be amazed at the extreme detail of each mummy and their individual stories. Even though we had seen pictures, seeing them in person and up close, was a completely different experience. At first, I thought maybe my son would be a little scared in seeing the mummies since they were a bit intimating. But I soon discovered that his immediate curiosity and excitement outweighed any fears that he may have had. He was completely immersed in learning as much as he could about each mummy he saw.
Brandon had several favorites that he requested we share with our readers: The Detmold Child from Peru, The Howler Monkey, The Tattooed Woman, Baron Von Holz, and The Orlovits Family.
As we continued to the end of the exhibit Brandon had a chance to meet and interview John Mackey, President & CEO of Discovery Place and Heather Gill-Ferking, Mummy Expert and Researcher. Here are a few of the questions he asked them:
Brandon: How did you get the mummies here?

John: The mummies were individually boxed and packaged and brought in special trucks and security that were handled them with lots of care.

Brandon: Where in Peru did you discover the little boy mummy (The Detmold Child)?

Heather: He was found in Peru but we are not sure of the exact location.

Brandon: How much are the mummies worth?

Heather: The mummies are priceless. It's difficult to put a price on them.

Brandon: Why do people make mummies?

Heather: It was primarily based on their beliefs.

Brandon: What countries were mummies discovered?

John: We have mummies from South America, Germany, and Eygypt.

Brandon: What is the oldest mummy discovered?

Heather: The Detmold child is estimated to be about 10 months old when he or she died approximately 6,500 years ago. Which makes this mummy the oldest ever discovered.
As we ended our tour Brandon and I decided to stop at the gift shop to have lunch. We had an in-depth discussion  about the exhibit and what he had learned. He also purchased a replica of an amulet and the program book of the exhibit in the gift shop. He couldn't wait to share all the photos and information with his classmates.
If you have family and/or friends visiting you for the holidays this is a great place to take them. Tickets are now on sale and reservations are highly recommended. For more information about Mummies of the World visit:
DiscoveryPlace.org or MummiesOfTheWorld.com