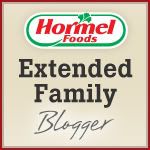 March has ended and so has National Nutrition Month – started by the Academy of Nutrition and Dietetics – with this year's theme being "Get Your Plate in Shape." I can tell you right now over here at casa – house Hutcheson we have just started our own little health challenge to get ourselves in shape for a very special upcoming trip. And even though the month is almost over it is never too late to start making more informed choices about what we eat and our physical activities.
My husband and I know how important it is to set an example for our son, Shaunsito and we know at 3 years old just how impressionable he can be. We've also entered a picky eater phase again so working around that to make sure he eats nutritious foods can be challenging. So, we sat down and decided to make some important, slight changes so as not to disturb the delicate balance of our toddler's life. More healthy snacking throughout the day has made up for the fights during the three major meals of the day. It's what works for our family and Shaunsito is getting what he needs.
With our son being a fan of pepperoni we switched it up with the Hormel Turkey Pepperoni Minis which had less fat and more protein. Something that was great for me, too – since I'm always snacking with my son – is just the fact that it was turkey made it easier for me to digest with my current onset of acid reflux. Yeah, fun times. That's what I get for being old.
Anyhow, as I mentioned, with a picky eater it can get challenging but not only can you switch out things like the pepperoni above without your kids noticing, Hormel has a few other picky-eater tips on their site here, as well as recipes that you can get your kids to help out with. Great way to spend family time together, too!
Now for hubby and I to get on track with shedding a few pounds we opted to switch out munching on regular potato chips with dip to adding some veggies, baked chips and Wholly Guacamole instead. And when lunch time rolled around I made myself a Grilled Guacamole & Turkey Sandwich (Natural Choice, Oven Roasted Turkey Deli) – threw in some tomatoes, cheese and was good to go!
Having the guacamole in place of the mayo was SO much better and the nutritional value of it far outweighed the alternative. Avocados were my go-to-food when I was pregnant so being able to have some yummy guacamole makes me feel like I'm still doing the best for my body, and in turn a healthier mami means a happier family!
What are some of your favorite "eat right" tips or go-to-foods? Have they tried Hormel Natural Choice deli meats, Wholly Guacamole products, or Hormel turkey pepporoni minis? What did you think?
Here's to a healthier April for you and your familia – family!