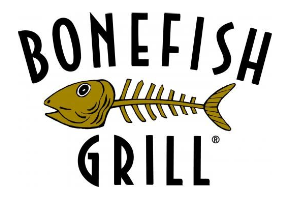 The past 2 weeks have been pretty hectic here in my household.  Nothing says craziness like being hit with a tummy virus all while trying to get Christmas shopping and cleaning done!  But our family bounced back quick, thank goodness.  Once we were feeling better we couldn't wait to eat something yummy  and get out of the house for a bit.  Luckily for us we had the perfect place…Bonefish Grill!
Initially, hubby and I had made a "date night" reservation but I thought since we had yet to bring our son, Shaunsito, to Bonefish Grill we could all use a night out and go together for a "family fun night" instead!  To be honest, I wasn't quite sure how that would go as I didn't know if it was a true, family-friendly restaurant.  The only other time I had visited was with my sisters and I had not seen any children at the restaurant that night.
But once we stepped into the Bonefish Grill on Pineville-Matthews Road in Charlotte, I knew I had nothing to worry about.  Everyone from the hostess to the chef were so kind and and helpful.  Once we took a seat I remembered all the fun my sisters and I had the last time writing on the brown paper tablecloth, some of us even got a little extra creative, haha!
This time, our six-year-old was the one having a blast taking over the tablecloth with his imagination and in no time, we were greeted by Lydia, our server who was so sweet & on-point. She helped us learn a little more about what was part of the new Colossal Winter Menu (available for a limited time) and got me started on a delicious drink, the Winter White Cosmopolitan that had Reyka Vodka, St. Germain Elderflower liqueur, white cranberry juice + fresh lime juice!
I will freely admit I'm not a big drinker at all so when I do indulge in an alcoholic beverage it really needs to be worth my time.  And this Cosmo was DELISH!
While I sipped on my drink,  we took a look at the menu and knew that we would all be able to find something to our liking.  In fact, we were trying to keep ourselves from over-ordering because everything sounded so good!
And even though I knew our son would love to try some of these new foods, I also knew that one thing you can't always count on is a child's eagerness to try that something new at that particular moment.  So, if you are like us and need a safe option just in case, there is also a Kid's Menu that has some of your kiddos favorites like:  chicken tenders, mac n' cheese, fish strips, grilled chicken and popcorn shrimp (these also come with a side order of vegetables or french fries).  We went with the popcorn shrimp and vegetables for Shaunsito which turned out to be a hit!
Once we stopped ooh'ing and ahh'ing over the menu,  we chose two appetizers:
Singapore Calamari – that was flash-fried with peppers & sweet spicy Asian sauce and was just so perfect it practically melted in my mouth!
Lobster Stuffed Shrimp – butterflied shrimp with a creamy lobster & shrimp Imperial stuffing, topped with a lemon caper butter sauce.
Hubby and I also shared the Bonefish House Salad with goat cheese which was a first for us both and surprisingly yummy.  Afterwards, our little one commented that maybe we should buy a goat for the house since we liked it so much, lol!
Then, for our entree, we opted for:
Sirloin Colossal Shrimp Scampi – a delicious 6 oz USDA Choice sirloin topped with 3 colossal shrimp, a scampi butter sauce, with the choice to upgrade to a filet.
Now if the picture above hasn't gotten your tummy growling yet, what we chose for dessert absolutely will!
To finish off our meal we chose two desserts that were off the charts!  If your family is anything like ours, you never quite seem to make it to dessert after dinner.  
Do yourselves a favor and plan ahead before going to Bonefish Grill…save some room for dessert!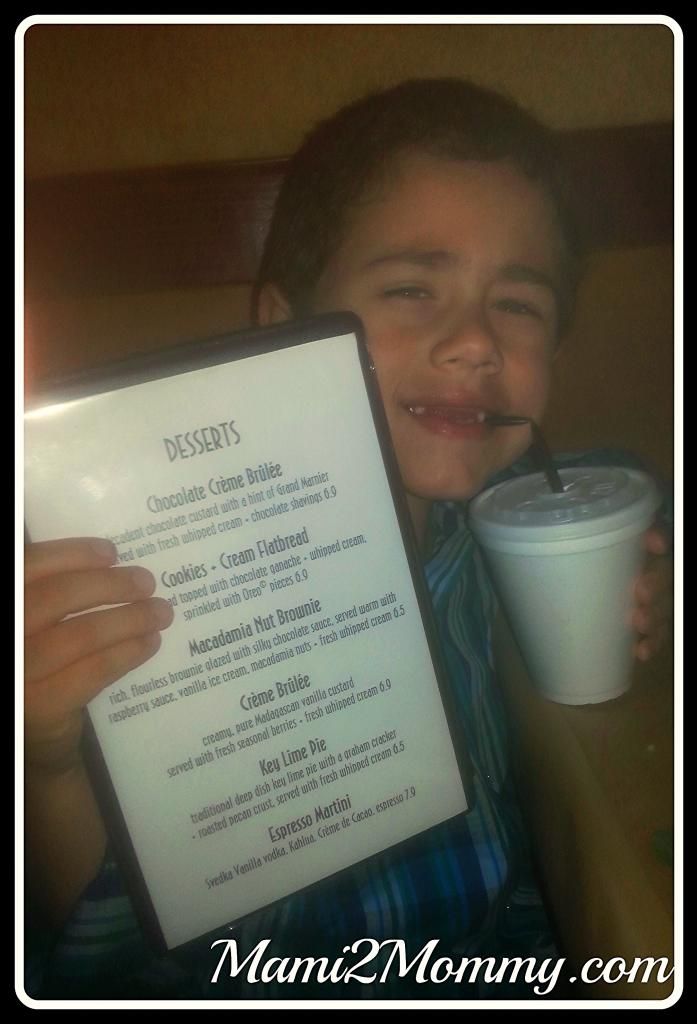 We chose one from the Colossal Winter Menu, the Chocolate Creme Brulee (with a hint of Grand Marnier) which hubby and I shared.  And again, the creme brulee was a first for us and we were happy to be able to add another new, yummy food to our list.  Despite my darling husband not being a fan of having to wait to eat his food so that I can snap a few pictures, he did fairly well.  Let's just say the taste of the creme brulee all but made up for it!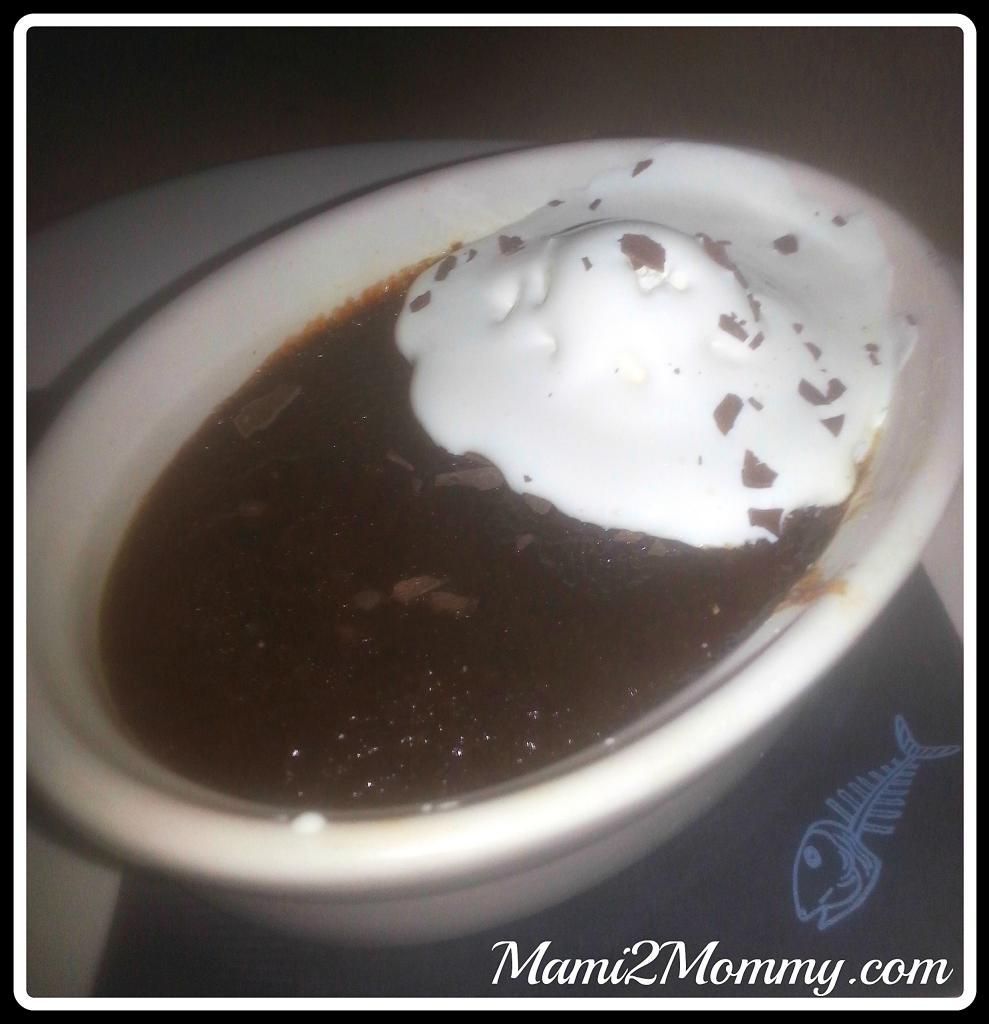 From the regular menu we HAD to have the OREO® Cookies + Cream Flatbread (Brioche flatbread topped with chocolate ganache, whipped cream + sprinkled with OREO® cookie pieces). Holy smokes!  We could barely get it away from our son who kept taking a bite and  in-between would exclaim, "This is SO good!"  We finally had a taste and Shaunsito wasn't joking, this was going to be a family favorite for sure!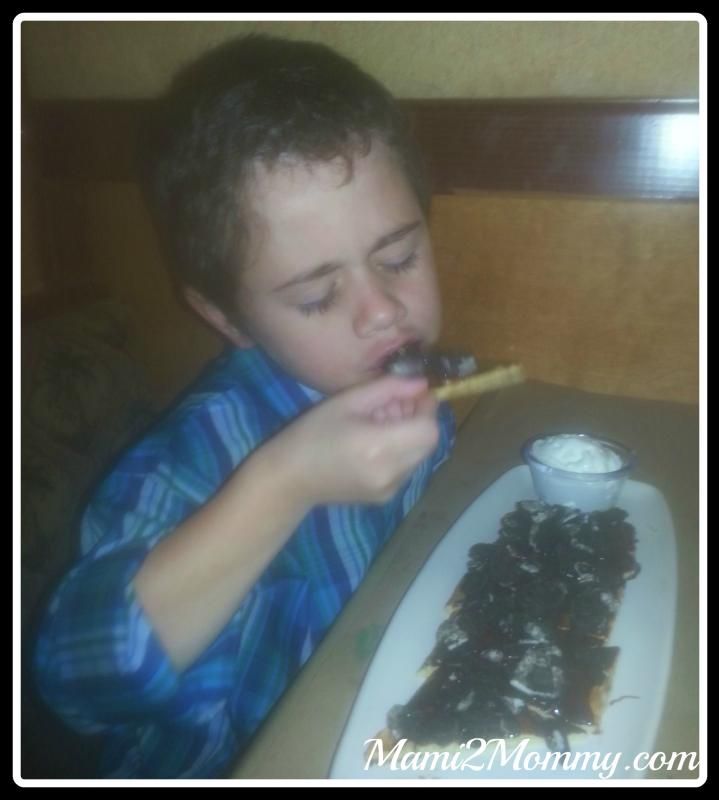 So with the end of 2014 quickly approaching and all those resolutions we are gearing up for in 2015, I say join us in closing this year out with a BANG!  Oh wait, did we mention the scrumptious Bang Bang Shrimp?  Seriously!
Now, loosen up your pants, grab your family & friends and head out to Bonefish Grill for their Colossal Winter Menu!  There are many other amazing dishes to try out that we plan on going back for, like the One-Pound Alaskan King Crab Legs, the Whole Grilled Mediterranean Branzino, Lobster Thermidor Dorado (Mahi), Kate's Wild North Atlantic Haddock, and Beef Short Ribs. 
And thanks to the Fresh Fish Experts at Bonefish Grill
you get to continue celebrating the holiday season in a big way with a 
$10 gift from now through December 30th, 2014 – Enjoy!
You can redeem your gift here: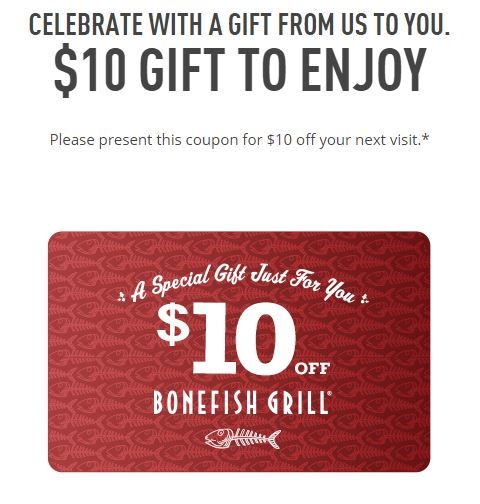 Disclosure:  I was provided the opportunity to try out some of the menu items for review purposes, however all opinions are 100% my own.