State Farm #MiDinero Twitter Party 9/21
Join State Farm, Latina Mom Bloggers, a group of fabulous panelists, and myself as we discuss Small Business Entrepreneurship. Of course, there will be lots of fun prizes too, including a Kate Spade handbag and $30 gift card!
Starting your own small business can be both exciting, yet at times can be a nail-biter.
What types of coverage's do I need to protect myself and my business?

How do I prepare for those unexpected "What ifs"?
While there is plenty of information readily available to educate Latinas on how to protect their small business on StateFarm.com, how do you put all this information into perspective?
Twitter Party Details:
Date: Wednesday, September 21st, 2011, at 9 pm, EST
Special Guests:
State Farm agent Crystal Martinez (Texas)  Twitter handle: @915AgentCrystal
State Farm Vice President of Agency Janine Chapa (Texas)
Panelists: @JollyMom @Eva_Smith @Mami2Mommy @webcitygirls @BLOGSbyLATINAS @Mcontemporanea
Moderators: @LatinaMomBlogs @Hispanicize @BeingLatino
Fabulous Prizes!
Kate Spade Handbag (Chestnut Ridge Stevie)
Red has been said to be the "Power" color. Couple this accessory with a confident smile and you will certainly be making a statement at your next business networking event. (valued $295)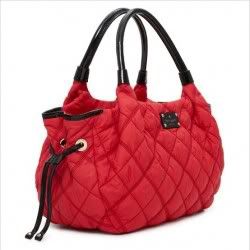 $30 State Farm Bank® Visa®Gift Card:
Go on; pamper yourself to a "mani/pedi" with this State Farm Bank®Visa® Gift Card. You deserve it!
You must RSVP to be eligible to win prizes. Please RSVP HERE.