The Help – Review & Giveaway
—-GIVEAWAY CLOSED—-
Winner Chosen #4 – Mirna. Congrats!

I had the opportunity to preview the movie "The Help" a few weeks ago and when I say that this is one of the best movies I have seen in a while I am not exaggerating in the least. I don't know if I laughed or cried more but I know that there wasn't one second that I wasn't feeling something. And now you have the opportunity to check it out because it comes out today, August 10th, 2011!
Based on one of the most talked about books in years and a #1 New York Times best-selling phenomenon, written by Kathryn Stockett, "The Help" stars Emma Stone ("Easy A") as Skeeter, Academy Award®–nominated Viola Davis ("Doubt") as Aibileen and Octavia Spencer as Minny—three very different, extraordinary women in Mississippi during the 1960s,  who build an unlikely friendship around a secret writing project that breaks societal rules and puts them all at risk.

From their improbable alliance a remarkable sisterhood emerges, instilling all of them with the courage to transcend the lines that define them, and the realization that sometimes those lines are made to be crossed—even if it means bringing everyone in town face-to-face with the changing times. Deeply moving, filled with poignancy, humor and hope, "The Help" is a timeless and universal story about the ability to create change.
[easyreview title="The Help" cat1title="Acting" cat1detail="This amazing cast proved exactly why they were chosen for this movie and their talents were so full of emotion that they truly transported me back to a time that I wish had never existed. Emma Stone was charming, Viola Davis an extremely bold and powerful – yet powerless –  character, and Octavia Spencer was just plain hilarious!" cat1rating="5″ cat2title="Plot" cat2detail="This all revolves around a time in Mississippi where not only the help is powerless but so are all the women in general. Battling what the world thinks they should be doing or having to stay in the box that society has put them in, all these characters share that similar characteristic…the need to heard, to have a voice. But at what cost will these women be willing to risk telling their stories? You'll have to watch the movie for the answer to that!" cat2rating="5″ cat3title="Scenery" cat3detail="Quite honestly I'm not the best person to ask if scenery is authentic to that time period or even Mississippi. But because I had behind-the-scenes info I found out that filming indeed took place in Mississippi AND many locals not only came out as extras but brought family possessions to make some scenes more authentic. Aside from that I thought the scenes were beautiful and captivating, just perfect." cat3rating="5″ cat4title="Movie vs. The Book" cat4detail="If you are an avid reader like me you may sometimes worry when they try to make a movie out of your book. In all honesty I read the book after the movie but that did not change my opinion in the least. As we all know the story being told in a book is hardly ever completely kept intact when making the movie version. It does not translate the same. Trust me, you want the director to delve in a little deeper or maybe even take you down the road of a character that you had never thought to go down. After not only seeing the movie but also hearing the director speak about this it made it very clear to me that the director, Tate Taylor, put his heart and soul into directing this film (also writing the screenplay) and did a darn good job of it." cat4rating="5″ Summary="Grab your friends, a box of tissues, and sneak in some sweet tea for this sure-to-be Oscar winner!"]
My Video Review Right After The Preview Screening – they have video booths there to capture your thoughts and feelings right after the movie!

GIVEAWAY
Now for the fun giveaway! Thanks to our friends at DreamWorks Pictures' we are giving 1 (one) Lucky Winner a prize pack containing:
– THE HELP t-shirt in adult female sizes of S, M, L, XL
– THE HELP pocket jotter & pen
– THE HELP fan
– THE HELP nail file/mirror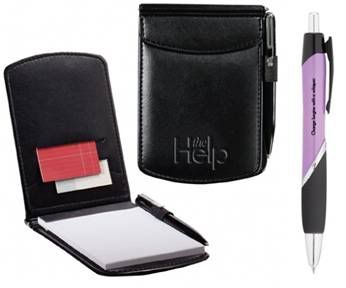 TO ENTER
*Mandatory Entry*–Please leave a comment below about this highly anticipated movie. Your thoughts on the previews, the book, the actors, the plot of the movie. Anything your heart desires, just share!
Extra Entries (leave link in comment section below)

RULES
Only open to US and Canada

Contest ends Wednesday, August 17th, 2011 at 11PM EST

Winner's name will be posted on site AND notified via email

Winner has 48 hours to respond or new winner will be chosen