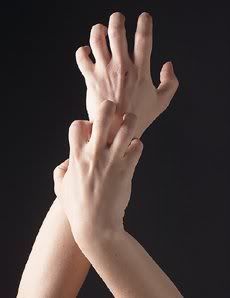 By Mami Raquel
Back in 2008, as I was taking my weekly belly shot, I noticed red bumps on my belly. At first I thought it may have been that I had just started using "secret belly" maternity jeans but as the night progressed I started itching. I sent the picture to my mother and she called me immediately to ask about the red bumps on my belly. I can still remember the fear I heard in her voice, as if she knew what I had but couldn't tell me. Days passed and the itching intensified as did the area with the red bumps. Being that it was my first pregnancy, I did what we're all guilty of, resort to our dear friend; Google. I remember sitting in front of the computer waiting for Google to ease my anxiety and tell me what was "wrong" with me. As soon as I typed in red bumps and pregnancy, the dreaded 6 letter word came up, PUPPPS.
I vividly recall the day I went to the doctor and as soon as she walked through the door I said "I think I have PUPPP." She smiled and said "Raquel, that's nearly impossible. Women who get PUPPP are in their last trimester, usually at 35 weeks."
She checked and advised me to take Benadryl and that my "rash" would go away. I followed her instructions but three days later found myself at the office. This time I was covered in huge clusters of red bumps all over my body. I had to be taken in immediately because the pain was so intense that I could not wait in the lobby.
The doctor saw me again and as soon as she saw me her eyes watered and she said "I am so sorry for not listening to you. You are right, you have PUPPPS."
I then found myself being prescribed Prednisone at 15 weeks pregnant and no longer being able to savor the excitement that comes along with being pregnant with your first child. I recall doing the math in my head and thinking "I am not even half way". Luckily for me I had an amazing support system. My husband couldn't have been more sympathetic to my condition and I later learned that my mother suffered from pemphigoid gestationis while pregnant with my brother. Pemphigoid Gestationis is an autoimmune disease that occurs during the second and third trimesters of pregnancy and around the time of delivery. Needless to say my mother and I bonded in more ways than one with my first pregnancy.
Statistics show that up to 1 percent of pregnant women develop this condition. You can imagine how "lucky" I felt when I found out about this small percentage.  When I was diagnosed with PUPPPS, the only information I knew was what I found on Google, which is not always the way to educate yourselves on important matters. I would hate to see anyone go through PUPPPS and even more so without the proper information. As long as you know 2 important facts about PUPPPS, you will be able to address your suspicion with your doctor.
Red painful bumps are NOT OK:

It is very common to feel itchy while pregnant due to your skin stretching to accommodate the beautiful healthy baby growing inside of you. However, when you have PUPPPS, it shows up as tiny red bumps that look like bug bites. They usually manifest in your abdomen area and could spread anywhere on your body. Mine started in the abdomen and trickled its way down to my hands and feet. They are incredibly itchy and at times painful. Should you discover any of these tiny red bumps, please call your doctor immediately.

PUPPPS does NOT harm your baby:

If there is one plus side to this condition it's that it causes no harm to your baby. The itching may be aggravating but it's great to know that the baby is not suffering at all. In the event that you would need medication to help with the itching, don't fret, there are several medications and topical creams that will ease the itch without affecting the baby. If the doctors feel the medication could cause any effects to your baby, they will definitely send you to be monitored by the appropriate physicians. I was monitored by a perinatologist on a monthly basis and my regular OB/GYN. The plus side to this constant "monitoring" was that I got to have an ultrasound every month. Ensuring Dayana was safe during my prednisone use was very reassuring to me.
Well, there you have it. Not too bad, right? I kept it simple and shared two facts that will hopefully empower women to not only their instincts but also pass the word along. If you have PUPPPS, stay strong and hang in there and as cheesy as this may sound, "this too shall pass".