Verizon FiOS "Celebremos a Mamá" – Mother's Day Twitter Party! 5/8 9PM EST #SomosFiOS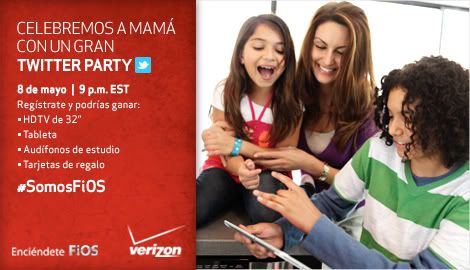 There are some things in life that you just want to scream out for the entire world to hear. "I'm in love!" "I'm engaged!" "I'm pregnant!"
And let me tell you that last one can sure make you look at life so much differently. It changed me in ways that I never imagined. For the first time I understood what it was like to be a mom and felt a connection to other mamis out there, especially my own. It was a miracle like no other and every day I'm grateful.
So, this year for Mother's Day I hope you can join Verizon FiOS and Latina Mom Bloggers on May 8th for the "Celebremos a Mamá" Twitter Party.  We'll be chatting about what motherhood means to us, Mother's Day traditions, and of course, honoring our own moms. It's going to be a really fun party, with a chance to win lots of amazing prizes! This is your day, mami, you deserve it!

Verizon is committed to the Hispanic community and provides tools and services to demonstrate its pledge, such as:
Spanish-language programming

Bilingual Facebook and Twitter sites

Hispanic Scholarship Fund partnership
Verizon FiOS, an all fiber-optic based network that delivers the fastest, most consistent, most reliable broadband connection available in America offers  home communications (Internet, telephone, and television) service in parts of 12 states and the District of Columbia.
Verizon has received top ratings in major studies and from a leading national consumer magazine among cable television and Internet service providers. With bundles available to suit your needs, FiOS TV offers over 550 channels, including more than 135 HD channels.  The FiOS network of Verizon surpassed 16.7 million premises as of the end of the first quarter of this year.
At the end of the first quarter of this year, the company had a total of 5 million FiOS Internet customers and more than 4.3 million FiOS TV customers.  FiOS Internet penetration reached 36.4 percent at the end of the first-quarter of this year.  In the same period, FiOS TV penetration reached 32.3 percent.
Party Details:
What: Verizon FiOS "Celebremos a Mamá" Twitter Party
When: Tuesday, May 8, from 9 PM to 10:30 PM EST
Where: Twitter
Hashtag: #SomosFiOS
Who to Follow:
Panelists:  @MContemporanea @SassyCorpYM @MamaLatina @Mami2Mommy @MichelleRivera5
Moderators: @Eva_Smith @JollyMom @latinamomblogs @latinomarketing
Brand: @SomosFiOS
Prizes:
32″ Class HDTV (ARV $360.32)

Tablet eReader (ARV $214.00)

Studio Headphones (ARV $212.49)

Walmart Gift Card (ARV $150.00)

Walmart Gift Card (ARV $50.00)
Rules: For the official rules, please click HERE.
RSVP:  To be eligible to win prizes, you must RSVP at Latina Mom Bloggers and follow @SomosFiOS. Click HERE to RSVP.
This is part of a compensated campaign with Latina Mom Bloggers and Verizon FiOS. However, all opinions expressed are my own.