Best Buy Brings Us "Three Kings Day" Twitter Party!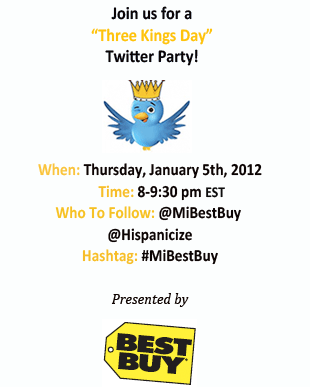 Yes, my friends, Christmas is over but as a Latina there is another important way we celebrate our heritage and that is by commemorating the visit of the Los Tres Reyes Magos – Three Kings to the baby Jesus in Bethlehem. I cannot begin to tell you how long it has been since I last celebrated Three Kings Day but it has been awhile. But as I'm sure most of you know when you become a parent the desire in you to want to share everything that you held dear from your childhood is overwhelming. I loved hearing the story about the Los Tres Reyes Magos, it was the story that my mom could tell over and over again. And it gave such meaning as I grew older for us to put out the nativity scene with our Christmas decorations. These were the things that I cherished and wanted to pass along to our son as my parents had passed along to me.
This year Shaunsito finally began to understand about Santa and Christmas so we started talking and reading a little about Three Kings Day. He of course hasn't quite grasped the concept but we will have fun, nonetheless, participating in a day that has been an important part of our cultura – culture. There will be food, music, stories and of course goodies!
Cross your fingers that our son doesn't remember the food part because this mommy is still working on her culinary skills! But I will make up for it with the love and culture that we plan to share with Shaunsito. The music & stories I know will be Shaunsito's favorite part because he is just like his mami. And what child wouldn't love more goodies? And speaking of goodies…
…we have partnered up with Best Buy and Hispanicize to bring you the chance to join in on our "Three Kings Day" Twitter Party! And to add to the cultural discussion, we will have fun prizes presented by our amigos – friends at BestBuy.
Who to Follow:

Moderators: @MiBestBuy @hispanicize @beinglatino @Xbox

Panelists:

@LanceRios @eva_smith @latinomarketing @mami2mommy @webcitygirls @dancinghotdogs

Prizes:

BEST BUY E-Certificate GIFT CARDS!

(1)– $500 Grand Prize

(2) – $250

(5) – $100

(2) Xboxes courtesy of Microsoft
*Disclosure: I was provided compensation for participation in this campaign.