#TargetFamilyThurs @TheWoodruff Arts Center in Atlanta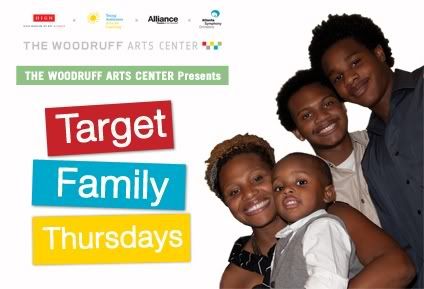 I will admit that since I moved to Georgia from New York back in 2001 I remained a bit of a New York snob. I complained a lot to my Atlanta native husband that there was nothing to do. The truth of the matter is that I didn't want to look because I was determined to return to New York and to never accept Atlanta as my new home. But when our son was born I forced myself to really take a look at what Atlanta had to offer. Since then I have found so many wonderful things for adults, children, and families. And thanks to the amazing social media and parent blogger community – Trey of DaddyMojo, Eric of Makes Me Wanna Holler, and Lamar of Black and Married with Kids help make up the parent part! – I have become privy to some really fun, cool places. But at the top of my list now is The Woodruff Arts Center.
Last week Shaunsito and I were invited by blogger extraordinaire, Alicia from AtlantaMoms.com, to attend Target Family Thursdays at The Woodruff Arts Center in Atlanta. I have been there a few times and enjoyed it but I truly didn't know what to expect for the little ones. I was a little worried because Shaunsito is a very active boy and I hesitated because I thought he might not be interested in what they had there. But I went to the website ahead of time to take a look at what they had to offer. Honestly, I still didn't know what to expect and was so nicely surprised by what an amazing  job they did at entertaining my son.
When we first arrived we were escorted to a room where they had tons of crayons and coloring pages for the kids to show their artistic sides. And here is where the parents got to mingle a little as well, give a few snacks, and make any last minute potty runs before the show.
Then off we went to the Theatre for the Very Young (for ages 0-5) where we enjoyed a lovely show called A Child's Garden of Verses. It was perfect for my son, was extremely interactive, and the children are encouraged to behave like, well, children! I loved it and so did Shaunsito. The actors were so entertaining and from the moment the children entered the door they were fully engaged. They handed me some seeds and Shaunsito a slip of paper with what looked like an inspirational word. I can't believe I forgot what it was. Anyhow, along with the slip of paper they also gave the kids satchels to hold their items in  and a pillow to sit on – it was too cute.
We sat down and the kids were encouraged to sit down on the floor where the actors performed.
Then the children had the chance to play with some fun things like shakers in the shape of eggs, bubbles, leaves and also enjoyed a little snack of sliced up apples to munch on. The show made me think of when I grew up and made mud pies. It was simple fun that required tons of imagination and energy only a child can bring to it…without getting dirty, a parent's dream!
And quite honestly it was so wonderful to not only see how much fun my son was having but to see how well-behaved he was. As a matter fact I don't think I've ever see so many well-behaved children in one room. I firmly believe that because the show was not only age-appropriate but tons of fun, the kids wanted to listen and behave so they could take part in the show. It worked like a charm. And the most tear-jerking happy moment came at the end when the seeds the children planted grew into flowers with a poem attached to them and they were able to pick them from the wagon/garden. My son was last to get his flower and asked them for another for his mommy. It was the sweetest moment ever!
We also had an opportunity to attend a children's acting class. I watched in awe as my son used his imagination some more to become a lion, be a statue, and guess that mommy was the cuco – boogeyman. Boy we did NOT want to leave and our day was coming to an end.Lastly, we took a final tour of the museum, had a hot potato painted on my son's cheek (thanks to The Wiggles for that one!) and colored a little more in another room that was set up to do a small activity. Finally we headed home exhausted and happy as can be.
If you'd like the chance to have an amazing time like we did for free you have this Thursday, September 22nd left in this month's Target Family Thursday. They even have activities for teens and every age in-between so be sure to check it out here and register to reserve your spot…they go fast. Have fun and get to know a part of Atlanta that is quickly becoming one of our family's favorites and will sure to be one of yours too!
All the best,
Mami Jennifer