Advance #Free Screening of The Three Stooges: The Movie – Atlanta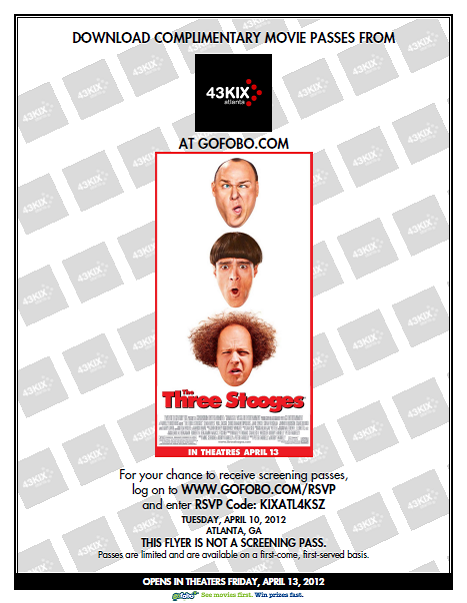 Twentieth Century Fox invites you and your family to an advance screening of THE THREE STOOGES: THE MOVIE. 
Left on a nun's doorstep, Larry, Curly and Moe grow up finger-poking, nyuk-nyuking and woo-woo-wooing their way to uncharted levels of knuckleheaded misadventure.  Out to save their childhood home, only The Three Stooges could become embroiled in an oddball murder plot…while also stumbling into starring in a phenomenally successful TV reality show.  http://www.threestooges.com/
Free passes to the screening are available via gofobo.com. Below you will find instructions to download your passes. 
THE THREE STOOGES: THE MOVIE SCREENING INFO:
 Tuesday, April 10 at 5:00pm
Regal Atlantic Station
261 Nineteenth Street, Atlanta, GA
Each user may download up to 4 admit-one passes.
Link to download passes: http://www.gofobo.com/rsvp
Code: KIXATL4KSZ