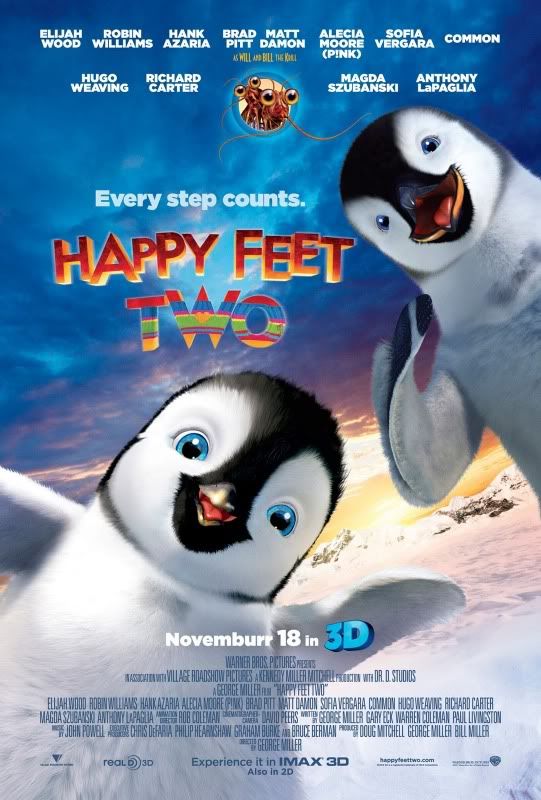 Before Shaunsito was born I remember going with my hubby to go see Happy Feet. It was such a fun and cute movie and it was a perfect date night for us. Flash forward five years and we can now share this heartwarming movie tradition with our almost 3 year old little peanut. We can't wait! I thought this was one of the cutest movies ever and it shared such beautiful messages. Now you can take your special little ones or even your special big ones this week to see it!
The sequel dances its way into our hearts again and  takes us back to the snowy world of Antarctica where we join our hero, "tap-master" Mumble, who now has a son named Erik. Unlike his light-footed father, Erik is reluctant to dance and runs away. Shortly thereafter, he encounters a charismatic penguin named Sven, who can fly. As Mumble competes for his son's attention and admiration, their world is turned upside down by powerful forces. Erik begins to see Mumble's abilities as a leader as he brings together the penguin nations to fix their problem.
The stellar voice cast includes:
Mumble (Elijah Wood)
Gloria (Alecia Moore (P!nk))
Ramon and Lovelace (Robin Williams)
Carmen (Sofia Vergara)
Atticus (Benjamin "Lil P-Nut" Flores, Jr.)
Sven (Hank Azaria)
With the first Happy Feet winning an Academy Award® I'm pretty sure "Happy Feet Two" will live up to that a hundred times over especially rolling it out in amazing 3D quality. And it looks like such a perfect father-son movie which is what Shaunsito really loves now. He'll point to the "dad" characters now and say "Daddy" and then the "child" character he'll exclaim "Shaunie!" It's the cutest thing. So make your holiday special for your family and go check out
Happy Feet Two in 3D
and be sure to report back here to tell us all about it!