In Honor of National Crime Victims' Rights Week, GMC TV to Present World Premiere Movie Heaven's Rain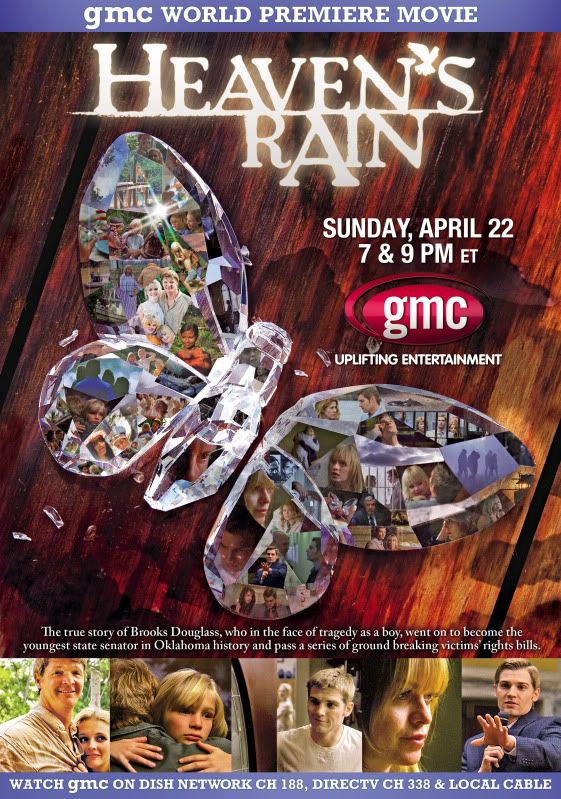 In conjunction with the kick off of National Crime Victims' Rights Week GMC TV, will present the GMC World Premiere Movie Heaven's Rain, on Sunday, April 22, 2012 at 7 p.m. EST with an encore broadcast at 9 p.m. EST. Heaven's Rain is a true story that tells of one man's mission to find forgiveness and fight for victims' rights.

Based on the true life experience of Brooks Douglass and his family, Heaven's Rain stars Brooks Douglass, Mike Vogel (The Help) and Taryn Manning (Crazy/ Beautiful). The GMC television premiere kicks off National Crime Victims' Rights Week which takes place from April 22nd to April 28th.   National Crime Victims' Rights Week was established in 1981 to promote victims' rights and honor crime victims and those who advocate on their behalf. Former Senator Douglass and GMC will participate in events around the country, including in New York and Washington, DC to help lead communities in their annual observances.

Heaven's Rain is told through the eyes of Brooks Douglass, who, at the age of 16, suffered an unthinkable attack when two strangers entered his home, claimed the life of his mother and father, Baptist missionaries, and left him and his sister clinging to life. Deeply affected by his experience, he must come to terms with a painful past and define what it means to be a survivor. Through this intimate family portrait, the movie captures the home filled with love, compassion and faith that Brooks and his sister Leslie grew up in.  The story explores the long term effects that his parents' teachings and the power of forgiveness can have when compassion triumphs over tragedy.
"It was important for me to tell my story and GMC was the right place to present it," said Brooks Douglass.  "They understand that Heaven's Rain is a story about a family and the example that parents set for their kids.  It is a story of survival and redemption and not just another crime story," he continued.
 The story of Brooks Douglass is remarkable," said Brad Siegel, vice chairman, GMC.   "In the wake of a brutal attack, Brooks translates a tragedy into triumph becoming a tireless advocate for victim's rights."  His commitment to victims' rights continues to impact us today.  And, while this movie has some difficult moments to encounter they are handled in a non gratuitous way and its message is an uplifting and redeeming one.  Everyone who sees Heaven's Rain will be moved, and hopefully inspired, by this story."
For more information about Heaven's Rain, visit, http://www.watchgmctv.com/heavensrain .
On an Important Side Note:
Interestingly enough our system doesn't exactly seem to be set up to put the interests of victims first.  There are 23 provisions in the U.S. Constitution that protects the accused, but there is not one provision that protects the rights of the victim.  The amendment to the U.S. Constitution that Brooks Douglass is proposing (which was originally suggested by President Reagan) would allow a family member- someone like Jennifer Hudson- to sit in on the trial even if they receive a subpoena to appear.  Right now, victims and family members are routinely excluded to keep the victim/ family member as a nameless, faceless entity to the jury.
Proceedings began on Monday, April 16th in the murder trial of William Balfour, accused of murdering Oscar winner Jennifer Hudson's mother, brother and 7-year-old nephew.  Hudson was expected to be at the trial every day once testimony began.  She is also on the 300-name list of witnesses who could testify. If she receives a subpoena, she will be asked to testify which means she will not be able to sit in on the trial- it will take her out of the sight of the jury until it is her turn to appear.
On April 26, 2012 Brooks Douglass will appear before the constitution sub-committee to ask that an amendment that protects the rights of the victim be made to the U.S. Constitution that will force the state and federal courts to recognize the victims' rights that are on the books that are currently being ignored.
Isn't it time victim's were given a voice?
PREMIERES SUNDAY, APRIL 22 AT 7 P.M. AND 9 P.M. EST and again on APRIL 26th.