'Devious Maids' Dreams Big on Lifetime

Around this time last year my family and I were preparing to move from Georgia back to New York. I remember that summer there was a rumor floating around about a new show – Devious Maids, created by Marc Cherry of Desperate Housewives fame – that was going to be filmed in Atlanta. But what had really caught my attention was the fact that one of the executive producers was Eva Longoria and the show was to feature five Latinas which was amazing!

After much anticipation I finally had the chance to watch Devious Maids on Lifetime and it didn't disappoint.
I know there has been much talk about it, on and off social media, and I will admit being swayed somewhat by the naysayers because a part of me felt that I was somehow betraying my fellow Latinas for watching a show that some viewed as stereotypical. But I just viewed it as pure entertainment and loved every minute of it!
The first episode – you can catch a glimpse here – introduces us to the amazing Latina cast: Ana Ortiz (Marisol), Dania Ramirez (Rosie), Roselyn Sanchez (Carmen), Judy Reyes (Zoila) and Edy Ganem (Valentina) and a look into their back stories as maids working for the rich and famous in Beverly Hills. With a Desperate Housewives vibe, the show centers around a very pivotal moment that takes place at the very beginning of the premiere episode and will have you wanting more by the end.
Even though I was seeing this as a fun escape there were still moments that hit close to home for me. Watching things unfold for Rosie and realizing the struggles she was going through because she had to leave her son behind in her country, made me think of a time in my own family where we were separated from my father as he tried to create a start to a new life for us in the United States. And as a mother it just broke my heart to even think about the possibility of having to sacrifice being with my child to give him a better life. It reminded me so much of a song that for some reason I clung to as a child, No Te Vayas Mama – Don't Go Mom, a heartfelt song from a child to his mother about not leaving him, though she must go work in another country to take care of him.
Can you imagine having to leave your child like that?
Another aha moment for me came when Marisol was applying for a job as a maid and her future employer wondered aloud why she didn't have an accent. Where do I even begin with that? Let's just say that I lost count of how many times I've been told by others that they weren't quite sure if I was Latina because I didn't have an accent. I wish I were kidding.
And what about the relationship between Zoila and her teenage daughter Valentina? The way this young girl objectified herself showed what little self worth she had. What has happened in her life to make her think that the only way she could get a guy is if she cut her dress to make it a mini-revealing outfit & offer herself up? Excuse me but if that was my mother she wouldn't be trying to teach me a lesson if I was acting out like that, she would have laid down the law! Maybe Zoila will eventually throw a chancla – sandal at her daughter to keep her in line once-and-for-all!
With all the great characters I'm still finding it difficult to connect with Carmen, as she seems to be the only one out for herself. But is it selfishness OR determination and drive to be a successful singer? Only time will tell.
All I know is that these Devious Maids are much more than what we see at first glance. Like many of us, we don't want to be judged right away either. This show already has me dreaming big for it and for more opportunities to see Latinos on television. So, give it a chance and don't miss the premiere of Devious Maids Sunday, June 23 at 10/9c on Lifetime.
Are you looking forward to watching?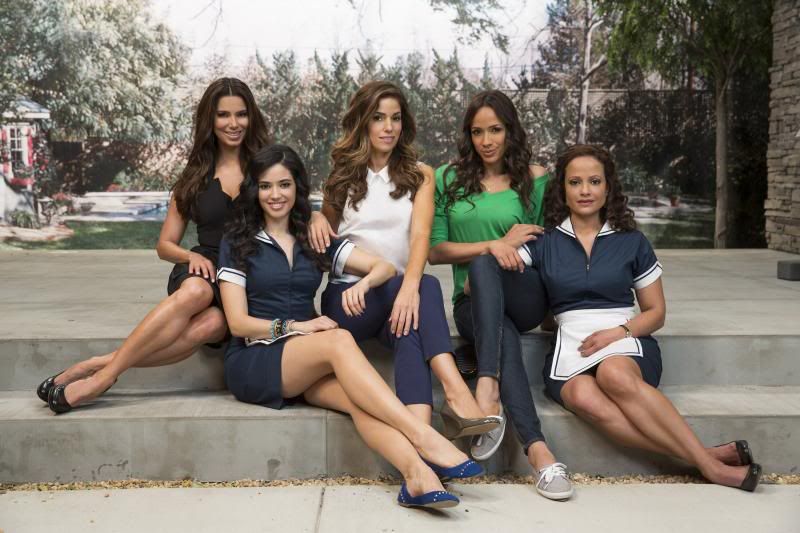 Disclosure: This post was sponsored by Lifetime however, all thoughts & opinions are completely my own. Besides, who else could be this clever?