Pampers 'Little Miracles' Means Big Baby Shower Giveaway!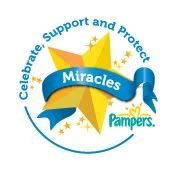 I would give anything to be pregnant right now. I'm thinking my son, Shaunsito, could really use a playmate and I miss that newborn baby smell. Gets me every time. And wouldn't you know it, Pampers is doing everything in its power to make me want to have another baby! Okay, I jest. They aren't doing EVERYTHING but they are sure making it tough for this mami to hold off any longer. In any event, though I'm not preggers YET, I still have 2 amazing secretos – secrets to share with all of you.
Secreto #1 – Through the generosity of Pampers one (1) lucky Latina/mami-to-be will receive a $500 gift card for their very own Little Miracle Baby Shower!
I am also fortunate to be able to work on this Little Miracles campaign alongside some amazing blogueras – Culture Mami, Latina On a Mission, and Mama Contemporanea – who will also be giving away $500 gift cards on their respective blogs.
Now I know what your thinking already. ¿Porque? – Why? Well, because Pampers knows just how important our little miracles are to us and because they have always done an amazing job of reaching out to the Latino community by providing ongoing parenting support and baby care information. And aside from that they just rock!
Secreto #2 (Grand Prize)- But wait, there's WAY more! The winner's of the $500 gift cards from each blog will be entered to win a Baby Shower of a Lifetime!
Pampers has partnered with Todo Bebé – leading Spanish-language baby care show that airs on the Univision network – to throw a very memorable baby shower. The lucky mami that shares her inspirational story about why her baby is considered a "little miracle" will not only get to share this amazing baby shower with family and friends but will be featured on Todo Bebé!
*Travel for two (2) family members will also be provided for by Pampers*
HOW TO ENTER – Review Terms & Conditions first
*Disclosure – This is a sponsored post in conjunction with Pampers Little Miracles campaign. All verbiage is strictly from my own brilliant cabezita-head (cough, cough) and my love for Pampers. If you don't believe me check my son's diaper bag.