Eco-Conscious Mommy
These bottles are sturdy (I can vouch for that after Shaunsito knocked it over!), handcrafted with recycled glass, and like most glass, can be endlessly recycled. And with glass you get the clean fresh taste and look of purity – free of toxins such as Bisphenol A (BPA), phthalates, polyvinyl chloride (PVC) and polycarbonates. So Super Mom you are doing something good for the environment AND your health!
I have to say it brought me back to visiting my abuelita – grandmother in Peru where they still use milk bottles. Interesting to know that Peru, being a 3rd world country, is ahead of us on this glass thing. – $33.95

*Mami incentive – Here's your chance to be an honorary Peruvian and do as we do – I jest! But seriously, let me tell you how amazing it is to not have to chase after an empty bottle like this on a windy day, when I'm already busy chasing after a toddler!
I will never claim to be an uber eco-friendly mami but I try to do my part. And I'd like to think that toting around this carrybag will help and at the same time allow me to look stylish while in the process of saving the world one plastic bag at a time! So with a sturdy aluminum frame, a soft rubber handle that allows your arm to rest comfortably, and the fact that it collapses easily to store,  it makes perfect sense to add this to your wish list. – $39.99

*Mami incentive – Carrying a bag instead of grabbing for a cart has helped me from buying needless items AND has pumped up my jiggly arms! Did I also mention it was shown on one of the most awesome shows, Modern Family? Do I really need to say anymore?
Germs don't stand a chance with the ionator HOM but finally our environment will! Let's just say that this crazy little gizmo is more than meets the eye. With this simple spray cleaner it takes regular tap water and turns it into a powerful cleaner. Not to mention how well it worked on my microwave and shower!
No more locked cabinets filled with various chemicals. From windows to countertops, stainless steel, even carpet, one Activeion device does it all. – $179
*Mami incentive – I can finally start my son on household chores Yippee! Just don't rat me out to DFCS.

Techie-tastic Mami
With a 4GB, Full HD 1080p video, 12.8-megapixel stills, 3.0″ (diag.) touch screen, flip-out USB arm, MP4 video format, that works with iMovie® this handy, dandy camera makes it easy to catch all your family moments. Toss it in your purse and your ready to go record the world. – $149
*Mami incentive – while hanging out at another awesome event you found out about on Mami2Mommy.com you can be tweeting with one hand and in the other have your Bloggie easily recording the kiddos WHILE taking still pics of them. Well, call me a monkey's uncle!
I know what you're thinking. This gift is for the kids. Negative space ranger. Imagine being out with the family for a nice meal when Junior starts getting restless. Just whip this bad boy out and voila, peaceful meal!
You and your child will experience incredible gameplay featuring real 3D graphics, with no need for special glasses. From games to photos and beyond, Nintendo 3DS is the ultimate 3D entertainment system. Nothing will make you an official member of the "cool moms club" faster than toting home a Nintendo 3DS. – $249.99
*Mami incentive – Hubby will be jealous – but if he's whining over the fact that you got one for Mother's Day? Be a good wifey and let the cry-baby borrow it on Father's Day. Don't say I don't love you, honey!
HP Mini 210 Mini – (Vivivenne Tam "Butterfly Lovers" Edition)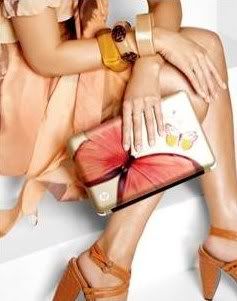 Why carry around a clunky old laptop when you can slip this little number into your purse when you step out for un cafecito – coffee with the girls. Now the Vivienne Tam Editions are hard to come by these days but you can still grab an HP Mini 210 which has all the bells and whistles you'll need. With a sleek, slim, light design: just .9″ thick and 3.08 lb., built-in webcam and digital microphone, 10.1″ display, and an Intel Atom N455 processor‡ for energy-efficient performance this Digital Clutch will keep you looking techie AND sassy! Starts at $329.99
*Mami incentive – While your very curious, tech-savy toddler begs you over and over again to watch the latest kids show on your dinosaur laptop, go ahead and hand it over. You've got something even more tech-tastic to play with now! And for your chance to win your  own Vivienne Tam "Butterfly Lovers" Edition enter here.
Handy Mommy &
Socially Responsible Mami

Hey, Handy Mommy! In these days leading up to Mother's Day, hundreds of female volunteers will  pound nails and raise walls at Habitat for Humanity construction sites in all 50 states in recognition of National Women Build Week, April 30–May 8. So toughen up chica and go grab your 18 piece, pink or green, tool set. And 10 % of the sales from the tool set will be donated to Habitat for Humanity Women Build. So swing that hammer baby for women everywhere!
*Mami incentive – Hubby says, "There's nothing sexier than a woman who can build her own shelves and contribute to a good cause at the same time." You are so right!
Gift From the Heart Card – Habitat for Humanity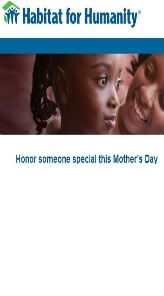 What can I say? I have a big heart for Habitat for Humanity. With that said you can make a tax-deductible Gift from the Heart donation to Habitat for Humanity and a special Mother's Day card will be delivered by e-mail or postal mail to the recipient you choose to let them know a donation has been made in their name.  Donations made through Habitat's Gifts from the Heart will help families achieve the dream of owning a home of their own. It's a wonderful feeling to receive gifts but an even more incredible feeling to give a little back.
"What better way to show our moms how much we love and appreciate them than to invest in the dreams of mothers around the world," said Jonathan Reckford, CEO of Habitat for Humanity International. "A Mother's Day Gift from the Heart is a beautiful way to say 'I love you." Agreed my friend, agreed.
*Mami incentive – It's tax deductible, people! Just include it on your 2012 income taxes right next to the receipt for the Vote to Save Darth Vader campaign contribution. You know you sent them money.