Ringling Brothers and Barnum & Bailey Circus Fully Charged – Charlotte, NC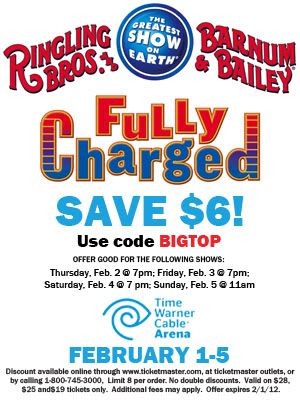 Now that the holidays are behind us and life has calmed down a bit we should hopefully be "fully charged" again and ready to go for the new year. I know I am, so I decided to start  checking out what fun events I could do with my children. As luck would have it I found out one of our family's all time favorite events was coming into town! Let's welcome back "The Greatest Show on Earth" to Charlotte, NC in February. The Ringling Brothers and Barnum & Bailey Circus will be at the Time Warner Cable Arena on February 1-5 with 9 different show times.
Ringling Bros.® powers up audiences with acts from all over the globe featuring breathtaking dare-devilry, superhuman stunts and never-seen-before performances that spark the imaginations of Children of All Ages! Clowns from the world-famous clown alley charge the audiences' funny bones, while megawatts of thrills explode out of the ring including The Human Fuse who rockets across the circus skies igniting the power of the people. And of course, amazing animals that spark the audience's awe and wonder. Experience the current of excitement at Ringling Bros. FULLY CHARGED!

And one hour before show time, families can meet the performers, get autographs, and see an amazing elephant that paints at the All Access Pre-show –FREE with a purchased ticket!
This circus always brings back those fun childhood memories of heading to the circus with my family. Being able to share similar memories with my children brings such a warm feeling to my heart.
The circus is a fun filled, family show that has you at the edge of your seat with exciting acts, talented animals that amaze you, clowns that make you laugh, performers that do the unthinkable and loads of sweets and goodies to eat! It's great way to spend family time together so be sure to order your tickets today at www.timewarnercablearena.com.
And as a thank you to our Mami2Mommy readers you can now

save $6 by using this special promo code: BIGTOP
This offer is good for the following shows: Thursday, 2/2 at 7pm, Friday 2/3 at 7pm, Saturday, 2/4 at 7pm and Sunday 2/5 at 11am for tickets priced at $28, $25 and $19.
Offer ends February 1st– don't miss this great deal!
Show Schedule:
Wednesday, Feb. 1 at 7pm
Thursday, Feb. 2 at 7pm
Friday, Feb 3 at 10:30am & 7pm
Saturday, Feb 4 at 11 am, 3 pm & 7pm
Sunday, Feb 5 at 11am & 3pm