#Jif Contests & Amazon Kindle #Giveaway #Sorteo
Trying to feed a toddler can be a challenging experience. Whenever I put something out to eat for Shaunsito  I run a 50-50 chance that he may just chuck it at me. Like I said, challenging. Fortunately for me my son seems to enjoy the foods that tend to be better for him. Thank goodness for small favors. So I was happy to see that when we sat down for snack time he was very open to trying Jif® Creamy peanut butter – also available are Crunchy, Natural and Reduced-Fat. He's hardly ever open to trying anything new especially peanut butter. We have gone through other brands a few times with no luck. But this time around it was different. As a matter of fact he ran, got a spoon and decided to help himself from the jar! Now my picky eater is enjoying his spoonfuls of Jif® and I'd love to update their tagline to "Choosy toddlers choose Jif." Fitting right?
As parents we try to do the best for our children. Making sure they eat a well-balanced meal and making time for our little ones is terribly important to all parents, including me. One way to make sure you are doing both is to bring your little one into the kitchen and cook with them. Even though I don't like to cook – really I just don't know how to cook very well – I still whip up some simple recipes or just have Shaunsito help me in the kitchen with putting some peanut butter on some apples or putting out some cheese and crackers for a snack. Whatever it is my son loves being in the kitchen with his mami and I enjoy our special time together just as much!
Now you have the chance to get your kids into the kitchen and whip up a little something for the JIF® Most Creative Peanut Butter Sandwich contest™.
From now until October 12, 2011, parents can help their kids, age six to 12 submit their creative sandwich recipes for a chance to win a $25,000 college fund. To mark the 10th Anniversary of the contest, this year's Grand Prize Winner will also receive an additional $10,000 for educational products.
Sandwiches will be judged on the following criteria: creativity, taste, nutritional balance, appearance and ease preparation

Ten semi-finalists will be selected to compete in a national online vote in January 2012

Five finalists will be selected to compete at a live judging event in New York in March 2012

Four runners up will each receive a $2,500 college fund
And there's more! The "That's Why I Choose Jif" contest gives parents a chance to share stories about the choices they make for their families. This separate contest invites peanut butter fans across America to enter the That's Why I Choose Jif Essay Contest for a chance to join the judging panel at the final event in New York, where five kid chefs will contend for the grand prize.
Adults can visit www.jif.com to submit an essay – 250 words or less in English – answering one of the following questions:
How do you make the best choices for your family?

Why do you choose Jif Peanut Butter?
One grand prize winner will win a four-day, three night trip to New York to serve as a judge at the 10th Annual Jif Most Creative Peanut Butter Sandwich Contest finale event in March 2012.
And to top it all off our friends at Jif are letting us do a  giveaway here on Mami 2 Mommy of one (1) amazing gift box with the following goodies:
Jif Branded Gym Bag
Jif-To-Go Product
Jif Picture Frame
AND an Amazon Kindle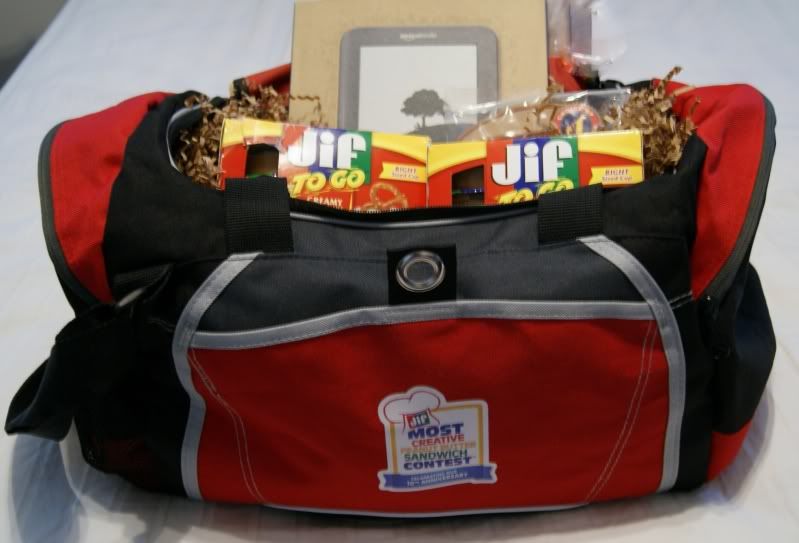 Giveaway ends October 17th, 2011 at 12:01am. Good luck!