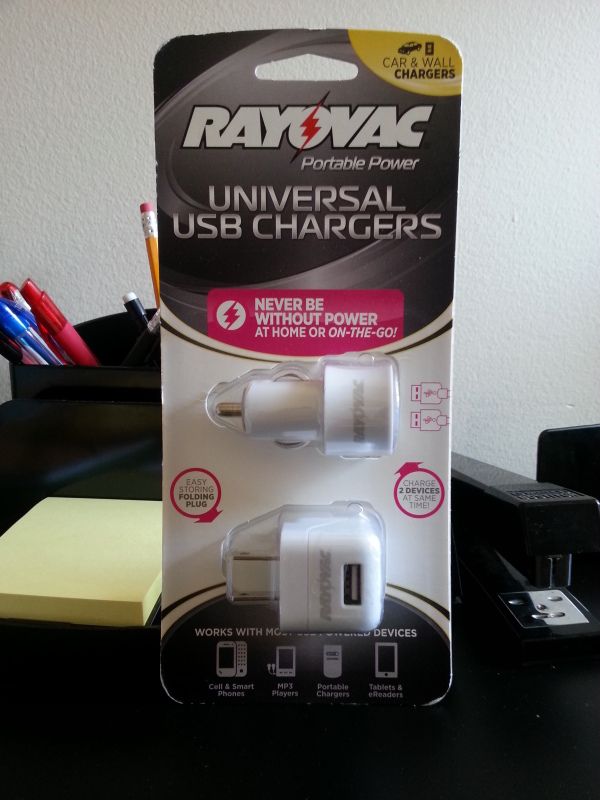 When I'm off rushing to an event or juggling trying to get Shaunsito out the door while trying to make sure I didn't just run out the door with one shoe on or lipstick smeared across my teeth the LAST thing on my mind is checking to see if my cell phone is charged. Often times I forget to charge it the night before which leaves me in a panic the next day in my mad dash out the door. That is the worst feeling for this techie mami not to have immediate access to my smartphone.
My hand actually itches if I can't connect to the digital world!
So, I now make sure that I keep my Rayovac Universal USB Chargers on hand. The car charger of course goes in my car and the wall charger goes in my purse so I can use it once I get to my destination. Now some cell phones, like mine, have the part that plugs into the wall but I always like to have a backup. Plus, without failure, at conferences someone else is always looking for an extra to borrow.
Added bonus: Great way to get to know new people through the sharing of a charger!
Another one of my favorite, on-the-go, Rayovac products is the Pre-Charged Rechargeable USB Charger with Batteries. I'll just go on the record and say anything that I can plug into my USB on the computer has already won my heart. But this one came in real handy when we took a family trip that had us on the road for over 2 hours and Shaunsito's handheld games, that take batteries, were completely out of juice. Luckily I was able to do some work on my laptop and charge up the batteries for my son's game at the same time. That was a big help.
Added bonus: For those of you that are like me and try to incorporate a few small, environmentally friendly options into your life this is a simple and quick way to do it since you are not going through tons of batteries but able to recharge them instead.
If your looking for some great on-the-go products Rayovac is definitely the way-to-go for all of your battery and energy needs. You can even check out some of their great deals on Facebook here and follow on Twitter here for more savings and fun!
*Disclosure: As a Rayovac Power Blogger I have been provided product to review and monetary compensation. However, all opinions and witty commentary are my own.