Yo Gabba Gabba! Launches Cool Tricks Contest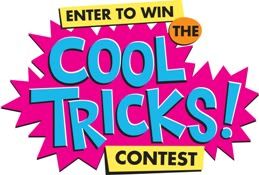 YO GABBA GABBA! LAUNCHES COOL TRICKS CONTEST
WINNERS TO RECEIVE VIP FAMILY 4-PACK AND THEIR COOL TRICK FEATURED AT KIA MOTORS PRESENTS YO GABBA GABBA! LIVE!: THERE'S A PARTY IN MY CITY! GRAND PRIZE WINNER TO RECEIVE 5 DAY ALL-EXPENSE PAID FAMILY VACATION
YO GABBA GABBA! announced the launch of the Cool Tricks contest which provides an opportunity for fans across North America to show-off their unique talents. Gabba fans are invited to upload a :30-:60 second video demonstrating their Cool Trick to win the opportunity to receive a VIP Family 4 Pack and have their winning video played during intermission at the KIA Motors Presents YO GABBA GABBA! LIVE!: THERE'S A PARTY IN MY CITY! show closest to their hometown. All participants are also automatically entered into a sweepstakes where one lucky fan will receive a five night trip for four to the Caribbean or Mexico.
In addition, each winner will also receive $100 worth of organic baby food, toddler, and lunchbox snacks and two "Party In My Lunchbox" Yo Gabba Gabba! Live! concert t-shirts from Revolution Foods and Plum Organics. Grand prize includes roundtrip air, Junior Suite accommodations, and all meals to a choice of Palladium Hotels & Resorts.
To enter the contest, participants must upload their video to Facebook at http://facebook.yogabbagabbalive.com. Winners are determined by public vote in each tour market. So be sure to get all your friends and family to vote for you!
Cool Tricks begins on Wednesday, August 18 at 10AM EST and winners will be notified and announced prior to the show date in each local market. The entry period for the grand prize sweepstakes will end on Sunday, Dec 12. See official rules at http://facebook.yogabbagabbalive.com.
Cool Tricks is a popular segment on the television series where children and adults show off their special talent or skill (gymnastics, cup stacking, breakdance move, etc.). Celebrities such as Tony Hawk performing a skateboard move and Rhys Darby doing the robot have appeared on Cool Tricks.
Heading back on the road, KIA Motors Presents YO GABBA GABBA! LIVE! THERE'S A PARTY IN MY CITY!YO GABBA GABBA! LIVE! THERE'S A PARTY IN MY CITY! will make stops in 60 cities at top theaters, arenas and amphitheaters across North America starting on August 27 in Bethel, NY and ending in Dallas, TX on December 12. Featuring music, singing, dancing and animation, KIA Motors Presents is an interactive experience that offers audience members of all ages the opportunity to witness their favorite characters come to life. Joining the characters on stage will be hip-hop legend Biz Markie to teach kids how to beat box with "Biz's Beat of the Day." Special guests will join the party on stage for the Super Music Friends Show and Dancey Dance segments.
For complete tour, ticket, and VIP package information, visit www.yogabbagabbalive.com.
DATE                                             CITY                   VENUE                          CONTEST END
Thursday, October 21, 2010 Nashville, TN Jackson Hall-Tennessee PAC Oct 11, 2010
Saturday, October 23, 2010 Atlanta, GA Fox Theatre Oct 13, 2010
Wednesday, October 27, 201 Jacksonville, FL Moran Theatre at Times Union Center Oct 17, 2010
Friday, October 29, 2010 Kissimmee, FL Silver Spurs Arena Oct 19, 2010
Saturday, October 30, 2010 Tampa, FL St. Pete Times Forum Oct 20, 2010
Sunday, October 31, 2010 Miami, FL AmericanAirlines Arena Oct 21, 2010
Tuesday, November 02, 2010 Columbia, SC Township Auditorium Oct 23, 2010
Wednesday, November 03, 2010 Knoxville, TN Tennessee Theatre Oct 24, 2010
Friday, November 05, 2010 Tulsa, OK BOK Center Oct 26, 2010
Saturday, November 06, 2010 Kansas City, MO The Midland Oct 27, 2010
Sunday, November 07, 2010 Denver, CO 1st Bank Center Oct 28, 2010
Tuesday, November 09, 2010 Salt Lake City, UT Maverick Center Oct 30, 2010
Friday, November 12, 2010 Spokane, WA INB Performing Arts Center Nov 2, 2010
Saturday, November 13, 2010 Seattle, WA Tacoma Dome Nov 3, 2010
Sunday, November 14, 2010 Portland, OR Memorial Coliseum Nov 4, 2010
Monday, November 15, 2010 Eugene, OR Hult Center Nov 5, 2010
Thursday, November 18, 2010 Sacramento, CA Memorial Auditorium Nov 8, 2010
Saturday, November 20, 2010 San Francisco, CA Bill Graham Civic Auditorium Nov 10, 2010
Friday, November 26, 2010 Los Angeles, CA Nokia Theater Nov 16, 2010
Sunday, November 28, 2010 San Diego, CA San Diego Sports Arena Nov 18, 2010
Saturday, December 04, 2010 Phoenix, AZ Dodge Theater Nov 24, 2010
Tuesday, December 07, 2010 El Paso, TX Abraham Chavez Theater Nov 27, 2010
Thursday, December 09, 2010 San Antonio, TX Freeman Coliseum Nov 29, 2010
Friday, December 10, 2010 Houston, TX Hobby Center Nov 30, 2010
Saturday, December 11, 2010 Austin, TX Cedar Park Center Dec 1, 2010
Sunday, December 12, 2010 Dallas, TX Dr Pepper Arena Dec 2, 2010
For More Information on S2BN, Wildbrain or Yo Gabba Gabba, go to www.YoGabbaGabbaLive.com
For information on Revolution Foods and Plum Organics go to www.revolutionfoods.com and www.plumorganics.com
About Kia Motors America
Kia Motors America (KMA) is the marketing and distribution arm of Kia Motors Corporation based in Seoul, South Korea. KMA offers a complete line of vehicles through more than 700 dealers throughout the United States. For 2009, KMA recorded its 15th consecutive year of increased U.S. market share and recently achieved its best quarter of sales ever. Kia Motors subscribes to a philosophy of building high value, high quality, safe and dynamic vehicles. Kia Motors prides itself on producing vehicles that are exciting and enabling and evoke the Kia tagline "The Power to Surprise."
Kia Motors America is the "Official Automotive Partner of the NBA." Information about Kia Motors America and its full vehicle line-up is available at its Web site – www.kia.com. For media information, including photography, visit www.kiamedia.com.