Holiday Shopping With Ho! Ho! Home Depot & Giveaway!
I have never shopped early for Christmas presents. It was just way too intimidating to have to search high and low to find that perfect gift. I usually did better under pressure, with a few hours right before Christmas Eve, I would have very few options to mull over and would be forced to take whatever was left. I know pretty lame right? Well, don't count me out yet. This year I'm done with my list and thanks to Ho! Ho! Home Depot it looks like I'll not only "wrap up" my gift giving early this year but I made out with some pretty awesome deals too!
It made my shopping and life so much easier to begin my shopping online at HomeDepot.com. You know what it's like to have kids and very little time to shop so every minute counts. Then I did a little detective work and saw that my hubby had been searching on their website for a few things to get some projects done around the house. This shopping trip was already pretty much taking care of itself. It was like his wishlist was right in front of me. Whoohoo! All I really needed to do was take a trip to our local Douglasville, GA Home Depot and finalize my decision.
Quite honestly I could have made my purchases online at HomeDepot.com or even downloaded their Iphone App and have the items shipped right to my store but I'm a touchy feely kind of gal who likes to try stuff out and talk to the associates to get their opinions and more information. My husband is the expert DIY'er and I'm still a newbie so I do like being able to rely on the knowledgeable staff.
I know I make life way more difficult than it needs to be – so my husband tells me often – but that's just my way. And I found going to my store put me in the holiday spirit with all their decorations too so definite added bonus for me.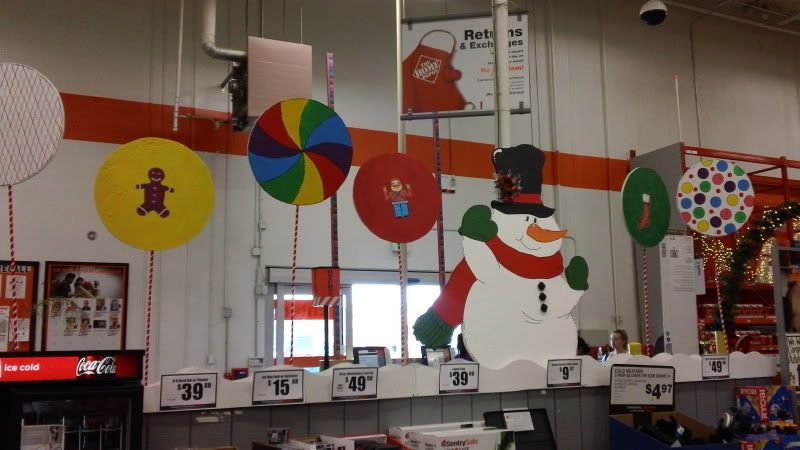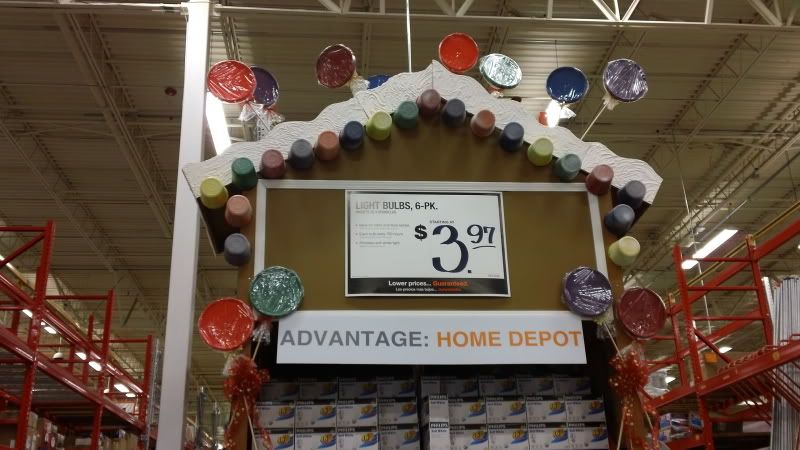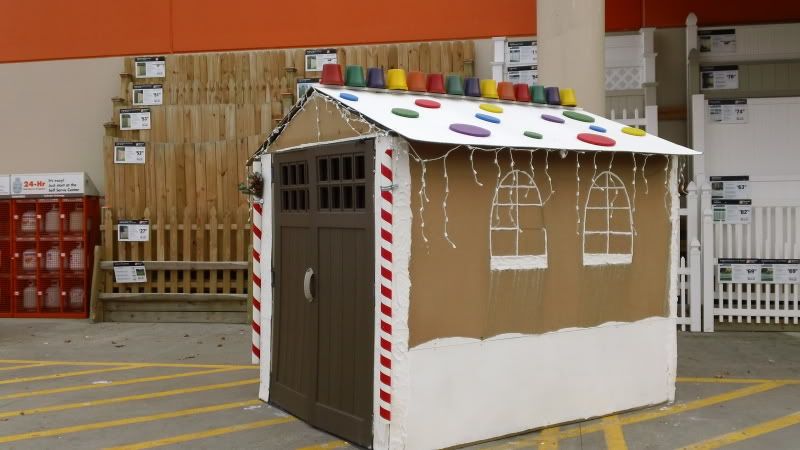 I mean seriously don't you just want to run out into your yard and decorate your shed as a gingerbread house now? So cute!
But whether you want to shop online or in-store there are over 1,500 products to choose from and when I say the price ranges are for everyone I mean it. I purchased a gift even for Shaunsito, an adorable snow globe with Rudolph and Santa and TONS of songs that played for under $15.
Let's not forget their How To tips in English AND Spanish – that is a favorite of my dad's! You can check it out on the Home Depot Espanol channel on YouTube here.
And kids can also get in on the Home Depot fun with their free workshops on the first Saturday of every month. During the month of December the workshops are even centered on holiday projects such as making Snowflake Napkin Holders. They even get to keep their craft and receive a FREE Kids Workshop Apron, commemorative pin and certificate of achievement.
Looks like Home Depot has thought of everyone and everything this holiday season!
But wait, you say? You have no earthly idea what to get your loved one from Home Depot? Let me introduce you to my friend the Home Depot gift giving tree which sprouts gift cards…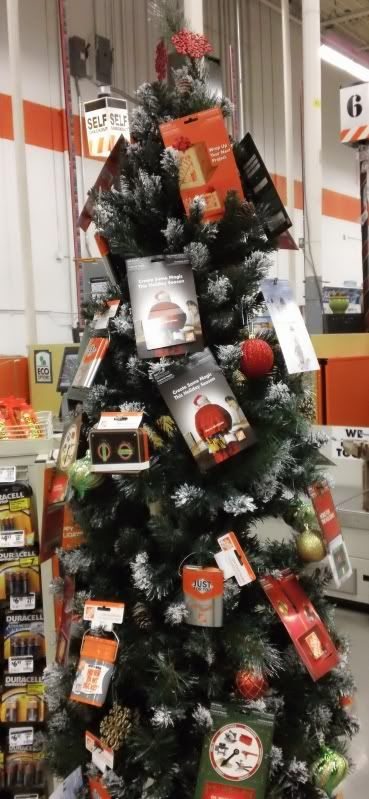 Looking for just one more reason to join in on the Holiday Shopping with Ho! Ho! Home Depot? How about a $50 Home Depot Gift Card?!?! Enter below and don't forget to watch my YouTube video of my shopping experience and for EXTRA ENTRIES!  Good luck and Happy Holidays to you and yours!
Disclosure: This is part of a compensated campaign with
Latina Mom Bloggers
and
The Home Depot
. The Home Depot works with bloggers such as myself to conduct product reviews. They do not tell bloggers what to say about their products or how to say it. The Home Depot fundamentally believes that people should be free to form their own opinions and share them in their own words. The Home Depot often provides product – free of charge – to bloggers for review as they did for this post. The Home Depot's policies align with WOMMA Ethics Code, FTC guidelines and social media engagement recommendations. The Home Depot provided me with a gift card to shop for the holidays and post my experience. All opinions expressed in this article are my own and not influenced in any way by anyone.