Mondays With Mimi – No Tolerance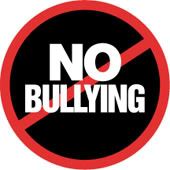 By Mommy Mimi
With all of the recent media exposure surrounding the topic of bullying, I had been giving thought, yet putting off how I was going to approach the topic with my son. I imagined when the time came, the topic would be discussed from the angle that if someone was bullying him, he should not tolerate such behavior and to feel comfortable letting the teacher and his dad and I know what was going on. So imagine the shock when I had to have the talk with him from the angle that he should not bully other children.
Let me explain.
Last week, after school I took him to the playground to run off some energy. There were a few other children on the playground, and I was busy playing around with my camera when I heard this little voice being quite demanding, rude and just downright mean to the other children. I was dumbfounded. I very rarely observe him playing with other children so I was very shocked at what I was hearing.
I yelled out for him to stop with the mean talking or we would be leaving the playground. Did he listen? No. About five minutes later, I heard, "You can't slide like me, I'm better than you." As if that wasn't enough he commences to shove the other child out of the way. Okay, this is getting out of hand. I am mortified because there are other parents around. I demand he apologizes. He does and although one of the moms stated it was okay and they were just kids playing. I didn't feel that way, I grabbed him and off to the car we went.
Once we got in the car and before pulling off, I had a long talk with him about how we should treat others, and that his behavior was not acceptable. I tried my best to explain to him that his words are powerful and can hurt people and that's not what our words are supposed to do, and that we are NEVER to put our hands on other people. He said he understood and wouldn't do it again.
After that discussion, it dawned on me that teaching our children about topics such as these will require an ongoing rapport. One that will come up from time to time and one that we will need to constantly reiterate to ensure that they indeed understand and get a full understanding of the ramifications of such actions.
Did I overreact? Was this indeed just child's play or an excellent opportunity to bring up the topic of bullying?