Join Discovery Familia in PALA Health Challenge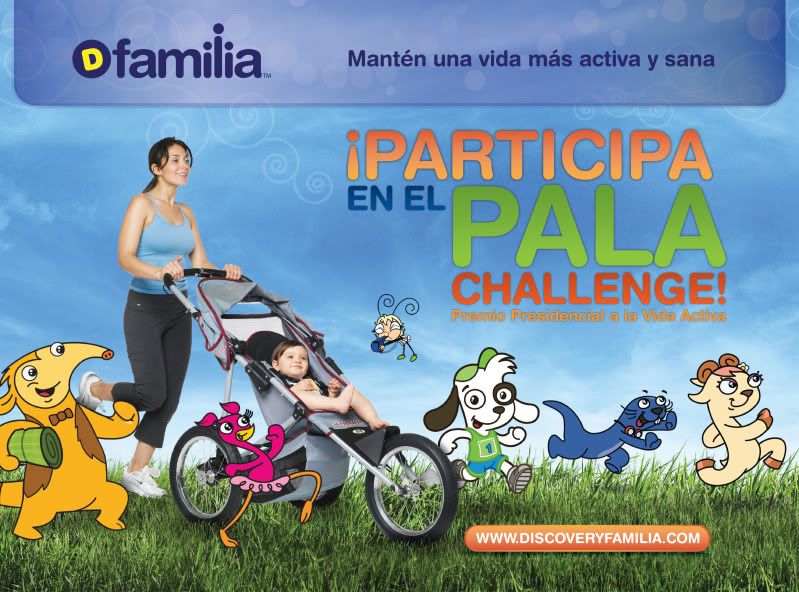 Discovery Familia will join forces with The President's Council on Fitness, Sports and Nutrition (PCFSN) through their President's Challenge program to become a leading advocate among Hispanics for the "Million PALA Challenge." The goal of the "Million PALA Challenge," which was launched last September by PCFSN and the First Lady's Let's Move! initiative to fight childhood obesity, is to motivate at least one million Americans to earn their Presidential Active Lifestyle Award (PALA) by this September.
The Presidential Active Lifestyle Award (PALA) is for people of all ages, backgrounds and abilities who want to jumpstart or maintain a healthy lifestyle. To earn a PALA, youth ages 6-17 must participate in moderate to vigorous physical activity for 60 minutes (30 minutes for adults) at least five days a week for six weeks.   Upon completion, participants can earn a certificate of recognition signed by President Barack Obama.
As the leading network dedicated to the needs of Hispanic moms and preschool children, Discovery Familia has pledged to further drive awareness and involvement, through a number of on air, off air and grass roots initiatives that are aimed at encouraging Hispanic moms and their kids to get informed and sign-up to get fit.
"We are thrilled to partner with Discovery Familia to promote the Million PALA Challenge within the Hispanic community," said Shellie Pfohl, executive director of PCFSN.  "It is critical to the future of our nation that all Americans find ways to be active with their families so that we can raise a healthier generation of kids."
Today in America, nearly one-third of youth are either overweight or obese. The national obesity epidemic is also a point of concern for Hispanics in the U.S.  This is supported by data from the Centers for Disease Control and Prevention, and a recent study conducted by the network that looks into the issue in terms of mothers and children.  Below are some startling facts:
Hispanic adults have the second highest rate of obesity at 27.8% (behind non-Hispanic blacks). In terms of gender, Hispanic women have a higher rate of obesity than men (29.4% vs. 27.8%).

Yet, according to the Discovery Familia study, Hispanic moms still consider themselves healthy, despite having limited information on health and nutrition.
Obesity prevalence among pre-school aged children (2-4 years old) ranks high among Hispanic children at 18.5%.

However, statements by Hispanic moms regarding their child's weight in the recent Discovery Familia study reveal a disconnect between their perception and the child's actual Body Mass Index (BMI).
"It is clear that there is a problem and we want to be a catalyst for change by providing U.S. Hispanic moms with the needed encouragement, information, as well as the tools and tips to help them and their kids lead healthier lifestyles and share quality time while being physically active," said Bilai Joa Silar, Vice President and Channel Director, Discovery Networks U.S. Hispanic, Discovery en Español and Discovery Familia.
Starting this March, Discovery Familia introduces a brand new series during its Discovery Kids block, "Bo on the Go" that aims to instill a love for exercise in children. Bo, a positive, super energetic and inquisitive young heroine, along with her young friend Dezadore dragon "Dezzy," will encourage children at home to go on amazing adventures by actively joining her in a variety of movements that assist her on her quest. By promoting an active lifestyle and an active mind, this new series, which airs from Monday to Friday at 12 PM ET/2 PM PT, is the perfect on air complement to the campaign and tool for moms to watch and share with their children. "Bo on the Go" is part of the 13 hours of curriculum based daytime programming from Discovery Familia, which offers more educational preschool choices in Spanish than any other network.
Also, if you are one of the first 1,000 people to sign up at www.discoveryfamilia.com and complete the challenge you will receive a FREE "I took the PALA Challenge" t-shirt! How cool is that?

So, please help support this amazing initiative to keep our kids healthy and visit The President's Challenge on Twitter and Facebook. Wishing you and your family health, wellness, and love!
With all my love,
Mami Jennifer
*Disclosure – I am extremely fortunate to work with an amazing initiative such as this and receive compensation for it.  Thank you to Discovery Familia for realizing the influence in the blogger community.